What to Sell at a Farmers' Market (17 unique ideas)
Farmers' markets are a good way to make extra money or to test out a new business idea. However, it's important to sell the right product or you can end up losing money after vendor fees, your time spent preparing for and selling at the market, plus time and money spent making/preparing inventory.
This article shares several ideas for products you can sell at a farmers' market, the types of products that tend to sell best, and how you can make your product unique.
What sells best at a farmers' market
People who visit farmers' markets are typically looking for locally made, grown, or raised food items for their fridge or pantry. 
If you keep that type of shopper in mind, it's easier to determine which types of products have a better chance of selling at a farmers' market. 
Imagine you're heading to your local grocery store to stock your refrigerator and pantry for the week. 
It's unlikely you'll have wads of cash on you to buy big ticket items, and you're not likely to be in the right mindset to shop for accessories or home decor items. 
That's not to say accessories, home decor items, etc. don't sell at farmers' markets. 
But to encourage people shopping for necessities (e.g. food), to stop and shop for non-essential luxury items (e.g. handmade jewelry), you do have to be offering something unique and special. 
If you are selling non-food items, start by knowing your target market so you can ensure your products are appealing to large groups of people. 
For example, don't just sell "jewelry for women" making every style of jewelry you can think of. Instead, sell "healing crystal jewelry for spiritual women", or "cat-themed jewelry for cat owners", or "bohemian style jewelry". 
If you're a crafter and want to sell non-food-related items, you'll find a long list of ideas here: 100+ Crafts to Make & Sell from Home
No matter what you plan to sell, keep these general points in mind when it comes to the types of products that tend to sell at farmers' markets:
low price points – most shoppers are visiting a farmers' market to spend less than $50. A vendor selling items $100+ may have a harder time making sales.
easy to carry – many people walk to their local farmers' market or plan to take their time and browse all the booths. They may not want to carry bulky or heavy items around a busy market or haul those items several blocks.

 
grocery store related – a farmers' market is basically a smaller version of a grocery store, and many shoppers view them as such. Think about the items grocery stores commonly stock. Most farmers' market shoppers will be interested in healthier and/or locally produced versions of these items.
Who shops at farmers' markets?
When deciding on what to sell at a farmers' market, you must first consider who you'll be selling to. 
No matter what you're selling, you should always think about your target market first.
Of course, there are all types of people who shop at farmers' markets. But we can make a few generalizations that will apply to many of the shoppers.
These generalizations will help you find a good product to sell at your local farmers' market.
Farmers' market shoppers may:
Be health-focused – it's easier to find meats from animals raised in humane conditions when buying from local farmers, as well as other food items free of pesticides, preservatives, artificial dyes and flavors, etc. Many people who are concerned about what goes in their body shop at farmers' markets.

 
Care about their community – when you buy from vendors at farmers' markets, you're supporting local small business owners and are stimulating your local economy. Market shoppers tend to put a bigger emphasis on their community and the people in it.
Appreciate quality – the items sold at farmers' markets are made/grown/packaged/etc. by hand. There's often better quality control and care that goes into these items when compared to items mass produced in a factory.

And shoppers are likely choosing to spend more than they would at a grocery store because they appreciate quality.
Enjoy cooking – market shoppers may be there to pick out fresh and in-season ingredients for their upcoming meals. Someone who puts that much care into picking out the best ingredients, likely enjoys cooking.

 
Enjoy eating – I know, who doesn't enjoy eating? But it's safe to assume people going out of their way to shop at a farmers' market, instead of a convenient grocery store, appreciate good quality food more than the average person.
Enjoy hosting – often, people who enjoy cooking, like to do so for others. So people buying ingredients for a meal they're planning to cook for guests, will likely also be interested in other hosting-related products (e.g. fresh cut flowers for their table centerpiece).
Have an interest in gardening – not everyone has the space or time to grow all the fresh vegetables they enjoy eating, which is why they visit farmers' markets. It's probably a safe bet that many of the people who appreciate locally made/grown/raised food have a bit of a green thumb or creative side. Seed starter kits, potted plants, and DIY kits may appeal to these types of shoppers.
*Permits and licenses
The permits and licenses required to sell food items at a farmers' market will vary depending on the location of the farmers' market. 
You'll most likely need to acquire some sort of a permit or license to sell products for profit at a farmers' market. There may also be regulations you must follow when it comes to preparing food (e.g. you may need to prepare it in a commercial kitchen and/or follow labeling rules to inform consumers of the ingredients used).
Because laws vary so much from location to location, I'm unable to sort the ideas listed below by what you legally can and cannot sell. What's legal to sell in one state without a permit may be illegal in another.
If you find an idea you like on this list, please visit your city's website to determine which permits and/or licenses are required to make and sell the item you're interested in.
You'll also need to understand your local packaging and labeling laws. 
Here are 17 unique ideas for types of products you can sell at farmers' markets.
1. Drink mixes
There are a wide variety of drink mixes you can create from hot chocolate powder to a seasoning mix for the rim of a Caesar/Bloody Mary.
Nora Rusev at Savory Nothings has a great example of a hot apple cider mix that can be made and packaged: Hot Apple Cider Cinnamon Spice Mix.
2. Bitters
Bitters do contain alcohol, so you'll require a liquor license or permit, and you'll also want to first check that selling liquor at farmers' markets is permitted in your jurisdiction.
Bitters are spirits mixed with botanicals (e.g. fruits, herbs, roots, spices, etc.). They're mainly used in cocktails, but can also be added to non-alcoholic drinks, used in baking, as a topping on desserts, or taken straight (in the case of digestive bitters) by dropping them on the tongue.
3. Simple Syrups
Simple syrup is basically sugar dissolved in water, but you can infuse that syrup with different flavors. They can be added to cocktails, coffee, iced tea, and other cold drinks, or be baked into desserts, drizzled over them, or used as a glaze.
4. Dry mixes
You can pre-mix dry ingredients for different types of baking and package them in jars with the wet ingredient list, measurements, and instructions for making the contents.
pancake dry mix
cookie dry mix
bread dry mix
muffin dry mix
These are also great for gift-giving, so keep that in mind with your packaging. You may create unique labels that are ideal for gift-giving occasions (e.g. Happy Housewarming Bread Mix, or Santa Claus Cookie Mix). You could even pair the mixes with other small items to round out the gift (e.g. use a ribbon to attach a tea towel and wooden spoon to a jar of Happy Housewarming Bread Mix).
5. Specialty Pies or Desserts
If you love to bake, consider packaging your desserts individually, or into packs so customers can enjoy one sweet treat, or serve your baking to guests.
Pies and desserts are fairly common items at farmers' markets, so brainstorm ways you can give yours a creative edge.
Unique pie flavors or combinations (e.g. pumpkin banana)
Low-sugar desserts (for diabetics or those watching their sugar intake)
Naturally sweetened desserts (for those who eat clean)
Gluten-free desserts (for celiacs)
6. Flavored salts
Get creative with different salt flavors people can sprinkle on salads, grilled vegetables, meats, and even popcorn.
7. Flavored Butters
You can sell jars of sweet or savory flavored butters. These would be great to sell alongside freshly baked bread. You can make whipped butter, or compound butter, or both.
8. Jerky
Create a unique line of jerky by experimenting with different meats and flavors. You can also appeal to different types of diets, such as low-sodium, low-sugar, or Keto.
9. Pre-made meals
This one can be a bit trickier to sell at farmers' markets, but I have seen it done. You'll need a really good cooler and lots of ice packs to keep food cold or frozen throughout the day. Alternatively, you can offer samples of the meals you prepare and simply take orders, offering drop-off or pick-up in the days following the market. 
If the meals are fully cooked and then frozen, they may be considered a "low-risk home-prepared food" in your jurisdiction, which may lessen or eliminate the permits and regulations required. Be sure to check your local laws.
Consider the classic comfort foods that freeze well, such as:
Shepard's pie
Chicken pot pie
Mac and cheese
Chicken noodle soup
You may even alter classic recipes to cater to specific diets, such as:
low-carb
low-sodium
Keto
Paleo
Vegetarian
Etc.
10. Teas
Use dry herbs, fruits, spices, etc. to make unique blends for tea. Sylvia Fountaine from Feasting at Home has instructions on how to make herbal teas. Examples of their teas are shown in the photo below. Just be aware, the products you sell can't make health claims unless they've been approved by the FDA (or a similar agency).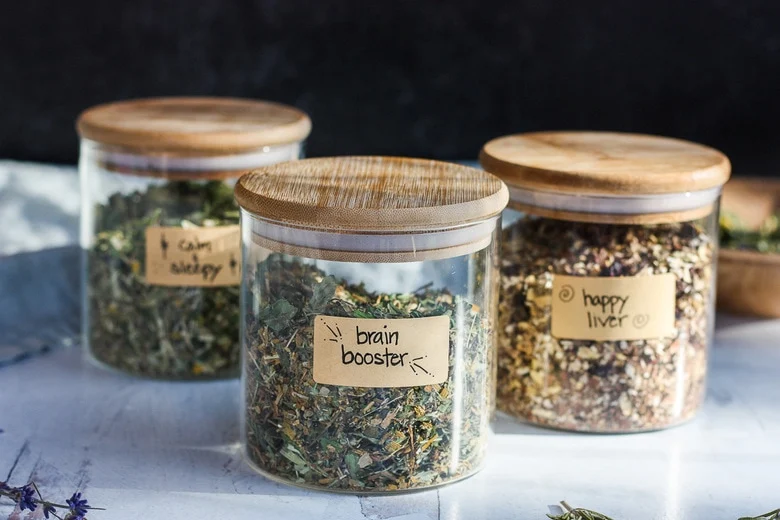 11. Snack mixes
There are a variety of snacks you can mix up, package, and sell at farmers' markets.
Nut mixes
Dried fruit mixes
Granolas
Flavored popcorn
Chex Mex mix
12. Infused honey
You can infuse honey with herbs, spices, fruits, and other plants. Infused honey can be added to drinks, baking, salads, or just drizzled over a piece of toast for a sweet snack. There are several ideas on SA Beekeeper's website, such as:
Lemon honey
Cinnamon honey
Chamomile and lavender honey
13. Salad dressings
Oils and vinegars can be infused with herbs, spices, and even fruits. You can sell bottles of oil and vinegar separately so people can create unique mixtures (my favorite summer combination is basil-flavored oil with peach-flavored vinegar).
You could also blend herbs, spices, salts, etc. to create dry salad dressing mixes customers can combine with vinegar and oil at home.  
If you have a way to make a pre-made salad dressing shelf-stable, you can mix up your best recipes and bottle them. You'll likely have more strict regulations to follow with this type of product.
14. Dry soup mixes
The dry ingredients of a soup recipe (e.g. spices, herbs, dehydrated vegetables, rice/pasta, etc.) can be layered into clear packaging (e.g. mason jars or plastic cone bags). Attach the cooking instructions and any additional ingredients customers need to buy separately and add to the soup.
There are a variety of options:
15. Pet food
Similar to human food, pet food does have regulations to follow, however, it may be a good product for you to sell if you're a pet lover and owner. Many pet owners are conscious about the ingredients their pets are ingesting and want natural, organic ingredients that follow an animal's natural diet (cats wouldn't eat carbs in the wild, yet most cat food is full of carbs).
16. Plants and flowers
If you have a green thumb, you may give other green thumbs a head start on their gardening in spring by starting seeds and selling ones that have sprouted. You can also create and sell:
potted flower arrangements for people's backyards or front porches
potted herbs people can grow indoors or outdoors
potted succulents
fresh cut flower arrangements (in bundles or in vases)
fresh or dried wreaths or centerpieces
17. Farmers' market staples
It's likely you're already aware of the foods you can almost always find at farmers' markets. These are also great items to sell:
Fruits and vegetables
Eggs
Meat
Pickles
Jams
Salsas
Breads
However, it's likely you'll be competing with other vendors selling the same items. But if you can find a unique angle, it will give you an edge over competitors. 
Check out the next section for ways to make your farmers' market products unique. 
Unique farmers' market ideas
If your city has a big farmers' market with dozens, maybe even hundreds of vendors, it's important to have a unique idea when it comes to what you'll sell.
Not only will a unique product help you stand out and sell more at a farmers' market, it will also increase your chances of being accepted to the farmers' market. 
Market organizers want to offer their shoppers a good selection of products. Therefore, if they already have a vendor selling pies, they aren't likely to accept another vendor selling pies. However, if they already have a regular pie vendor and you're a gluten-free pie vendor, you'll be serving a different customer, so you're more likely to be accepted.
If you don't plan to sell something unique, brainstorm ways to put a unique spin on a basic product.
Explore the different target markets your products can appeal to. 
Since food items are most common at farmers' markets, look at the different diets people follow (e.g. vegetarian, Keto, low-sodium, low-sugar, etc.).
Taking a common product such as jam, and making it low-sugar, or "no sugar added" (letting the fruits' natural sugars sweeten the jams) puts a new spin on a farmers' market staple.
Marketing can also be used to create a unique angle on a basic food product. 
For example, an egg farmer may know the difference between free-range and free-run chickens and why one is better when it comes to eggs, but the average shopper does not. Every egg farmer in the area may raise free-range chickens, but the farmer who promotes that aspect and teaches consumers the benefits is the one who will win the customers.
If you're not planning to sell a unique product, think about any information that may be obvious to you, but not so obvious to the average shopper. Although your competitors' products may offer the same benefits, if you're advertising the benefits and they're not, you'll win more business.
It's important that you clearly communicate that "differentiator" to market organizers (so you increase your chances of being accepted) and to shoppers through your display, signage, and sales pitch.
Another way to market a basic product in a unique way is through presentation.
How you bundle or package products can get shoppers to see them as unique. 
For example, a vegetable vendor may create bundles of vegetables that work well together for a meal or recipe. 
>> A bundle of 2 cobs of corn, 1 zucchini, and 2 potatoes are the perfect sides for a steak dinner for two. 
>> A head of lettuce, a bundle of basil, cherry tomatoes, and cucumber would make a great "Salad Pack". Add a recipe card that describes the salad, suggests a protein to pair it with, and shares a salad dressing recipe, and suddenly, basic vegetables have a new spin. 
Think about your target market, what they're likely to use your products for (e.g. making a salad), and how you can present your products in a way that sparks their imagination or makes their lives easier. 
What to do next
1) Research the laws you must follow to sell food products at your local farmers' market. 
If you're interested in setting up a business, you'll have another set of laws to follow. You may find Laws for Selling Handmade helpful. 
2) Crunch your numbers
If you're planning to sell at farmers' markets to make money, you need to make sure you can profit from the product you plan to sell. 
Determine how much your materials will cost, how many items you can make with those materials, and how long it will take you to make them. 
You must account for the hours you spend making your products, prepping for the market, and selling at the market. Then you'll need to multiply those hours by the hourly wage you'd like to be paid. 
You also need to cover any other costs associated with selling at the farmers' market. Those costs may be the cost of your booth, display props, signage, etc. 
Here's a guide for properly pricing handmade goods: The Right Way to Price a Handmade Product (Step-by-Step Formula)
3) Plan your display
When people spend money, they want to feel as though they're buying from a professional business and they're getting their money's worth. 
A well-designed booth display will help shoppers feel it's safe to buy from you. 
Would you want to buy a product from someone who looks like it's their first time making and selling it? 
Probably not. 
But that's the message a poorly planned display sends. 
There are several tips for creating a professional display on the Made Urban blog. And although it's targeted toward craft show vendors, you may also find the free email challenge 5 Days to a Standout Display helpful.
I hope this article has sparked some ideas for you. Good luck at your next farmers' market!
Hey, I'm Erin 🙂 I write about small business and craft show techniques I've learned from being a small business owner for almost 2 decades, selling at dozens of craft shows, and earning a diploma in Visual Communication Design. I hope you find my advice helpful!