Whether your handmade business follows trends or not, it's always helpful to be informed and take color/scent/style trend shifts into consideration when designing new products.
Don't confuse your existing Etsy customers or craft show shoppers by offering a trending product that doesn't fit with your brand. Instead, try something simple like using a trending color or print of fabric for existing products.
If you're just starting a handmade business, setting up an Etsy shop and signing up for craft shows, you may be able to get a little more adventurous with trying new trends since you're in the testing/development stage of your business.
UPDATE:
I've updated this list for CHRISTMAS 2019 and for the popular category of Jewelry. Please check out:
You may be interested in:
>> WHAT TO SELL AT CRAFT SHOWS TO MAKE MONEY
>> 100+ CRAFTS TO MAKE & SELL FROM HOME.
>> CRAFT BUSINESSES THAT MAKE THE MOST MONEY
KEEP IN MIND
I did not include trends that are related to Disney characters, movies, designer names, etc. Using trademarked or copyrighted material in your products is a big no-no.
Yes, a lot of people are making crocheted Disney characters or selling products with team logos on them, but that does not mean they're legally allowed to.
Big companies, brands and celebrities do come down on small businesses (Beyonce's and Taylor Swift's camps both targeted Etsy sellers), so be crystal clear on what you can and cannot sell.
LAWS FOR SELLING HANDMADE explains infringing on others' intellectual property and protecting your own (as well as other legal topics).
Also be aware of regulations you must follow, especially if you're selling bath & body products or children's products.
HOW I CAME UP WITH THIS LIST
Just in case you're wondering, I did NOT pull ideas out of my hat or guess about what's trending 😉 I used a few tools and resources:
Google Trends – this tool tells me what's trending in terms of words that are commonly searched on Google at the time of writing this article.
Industry leaders – I visit a variety of leading websites in the color, fashion, home décor, etc. industries to see what they're predicting for trends.
Popularity/saturation – my picks based on popular videos, pins, products that are flooding the market, topics blogs cover, movements, etc.
Etsy sales – I use a tool that tells me which Etsy shops have the highest sales. Having a popular product is just one part of that equation but is still worth factoring in.
First I'm going to cover general trends that can be applied to almost any product. Then I'll share some of the specific trends I discovered when looking at popular product categories.
COLOR TRENDS FOR 2019
I love staying on top of color trends because it's simply a matter of choosing new materials to work with, instead of designing completely new products.
PANTONE COLOR OF THE YEAR
Is Living Coral:
What do you think of this color? I love, love, LOVE it. It's my go to color every summer. This color can be applied to any type of product from clothing and pillow covers to nail polish and bars of soap.
FASHION COLOR TRENDS FOR SPRING/SUMMER 2019
Color trends change with each season and a lot of colors are predictable. For example, you know you'll see lots of color in spring, as well as pastels tones.
A couple colors that were popular on spring 2019 fashion runways were bright orange and yellow, which I think look awesome with the Pantone color of the year.
HOME DÉCOR COLOR TRENDS FOR 2019
I cover home décor products further in this article but these are the color trends to start. There are several resources listing a variety of popular paint colors for 2019. Since you're probably not selling paint, I rounded up a few that appeared on most lists and would be great for accent pieces such as:
Accent pillows
Blankets
Art
Pottery
Etc.
Each major paint company seemed to offer a variation of a greyish blue, rich wine color and deep emerald green.
In softer pastel colors, blush continues to be popular, and a soft lilac is also trending this year. These would look awesome paired with an oyster or mushroom color.
In general, earthy tones seem to be in. "Cavern Clay" by Sherwin-Williams came up on almost every "home color trend" list; obviously, everyone agrees on this one.
Of course, there are many more paint colors that are trending but these were my top picks.
CONSUMER TRENDS FOR 2019
In general, consumers are making more conscious purchasing decisions. They're paying attention to the ingredients in products they consume, the impact products and packaging have on the environment, the social issues happening around the world and how their purchases can help, etc.
Handmade products tend to align with this conscious consuming movement, however, you still must educate your shoppers and customers.
Although you may already be making items such as soap that uses all natural ingredients, or quality bags that will last a lifetime and won't end up in a landfill a few months after purchasing, not every consumer will know that at first glance; get that message out clearly.
THEME TRENDS FOR 2019
Themes can be applied to the fabrics, shapes, colors, scents, labels, etc. used for your products. Themes that kept popping up in all my searches were:
CROCHET & KNITTING TRENDS 2019
Using the methods mentioned at the beginning of this article, these are the top trends I noticed in crochet/knitting categories.
Food themed stitches – for example, waffle stitch and popcorn stitch.
Big/large knitted blankets – chunky knits are still going strong. I shared this awesome blanket and DIY by Lily Ardor on 2018's list and it's still relevant this year. (I like any blanket that has a kitten on it though;)
Knitted unicorn hat – unicorns are still popular, but this year, the "knitted unicorn hat" is commonly searched. This one is by Little Red Window:
Knitted headbands – these types of headbands are worn more like a bandana than a headband. This vintage inspired headband is by Mama in a Stitch
Knitted crop tops – think Coachella, which is in April and probably why this is an increasingly searched term on Google right now. Although this is a music festival with acts like Beyoncé and Arianna Grande, many attendees treat it like a fashion show for bohemian styles. Snowflake Crochet has a bunch of tips on sizing a crop top and a few tutorials listed on their site. Here's one of her crop tops:
SEASONAL
These items are currently (beginning of 2019) trending according to Google Trends. Although consumers may be onto buying spring and summer products, keep these items in mind for the end of 2019.
Knitted ski mask
Geek knitted Christmas sweater
Nose warmers (See example below by Traverse Bay Crochet)
CREATING A COHESIVE KNITTED/CROCHET PRODUCT LINE
Getting great sales isn't a matter of introducing one new trending product to your line up.
That product must work with your brand and USP
If it's a trending product, you best believe it's going to have growing competition so you must have a reason for why consumers should buy from you
You need to keep those customers coming back…we don't want one-time sales
For help with these three points and more lessons that will take your sales to the next level in 2019, join the free email challenge: BEAT LAST YEAR'S SALES
BABY / CHILD TRENDS FOR 2019
Using Google Trends, I searched for common product names (e.g. baby headband, baby bib, etc.) and these were a few specific searches that are trending:
Or course…Unicorn headband – these get incredibly creative and use all types of materials and come in all types of shapes and sizes. I came across a few baby ones that were more of an elastic headband using felt to create a flower crown with earns and a horn. Here's one example for older kids by Creative Green Living
Baby turban headband
Baby top knot headband
Baby pom pom headband – I wasn't able to find any images that I could share here but the top results when searching that phrase on Google brought up cute headbands with two big pom-poms on either side of the head, so they almost look like Mickey Mouse ears.
Big bow headband for baby – this was a similar turban style headband with a big bow at the front. Here's an example by Viva Veltoro:
Baby apron bib – this appears to be a mix between a bib and an apron, making mealtime a little cleaner
Teething mitten or teething egg – these were both common searches when looking up Google trends for "teething". These may be patented or their designs copyrighted (remember to follow all laws…check out LAWS FOR SELLING HANDMADE for an easy to follow and understand guide), meaning you may not be able to create your own version of a teething mitten or teething accessory in the shape of an egg, but it may spark an idea. Always be sure you follow regulations for baby products. Teething products can easily become a choking hazard.
When looking at "teething necklace" search trends over the last 5 years, it seems to be trending down. However, when people are searching for teething necklaces, amber ones seem to be more searched.
Toys & games – again, most search trends were based on a specific brand. But 6 of the top 10 highest selling Etsy shops under the category "toys & game" are selling wooden toys (wooden blocks, stacking toys, wooden rattles, etc.)
Stuffed toys – nothing was trending for search terms, aside from "pokemon stuffed animals", which you cannot create because that would be copyright infringement. However, the themes "llama", "unicorn" and "cactus" would apply to this category (how cute would a stuffed cactus be?). When searching "stuffed toys" on Pinterest, Scandinavian style dolls seems to be popular. You can download the pattern here for the adorable Llama below. It's by Nata Patterns. Check out all of her patterns here; they're right on trend with a Scandinavian feel and the types of animals.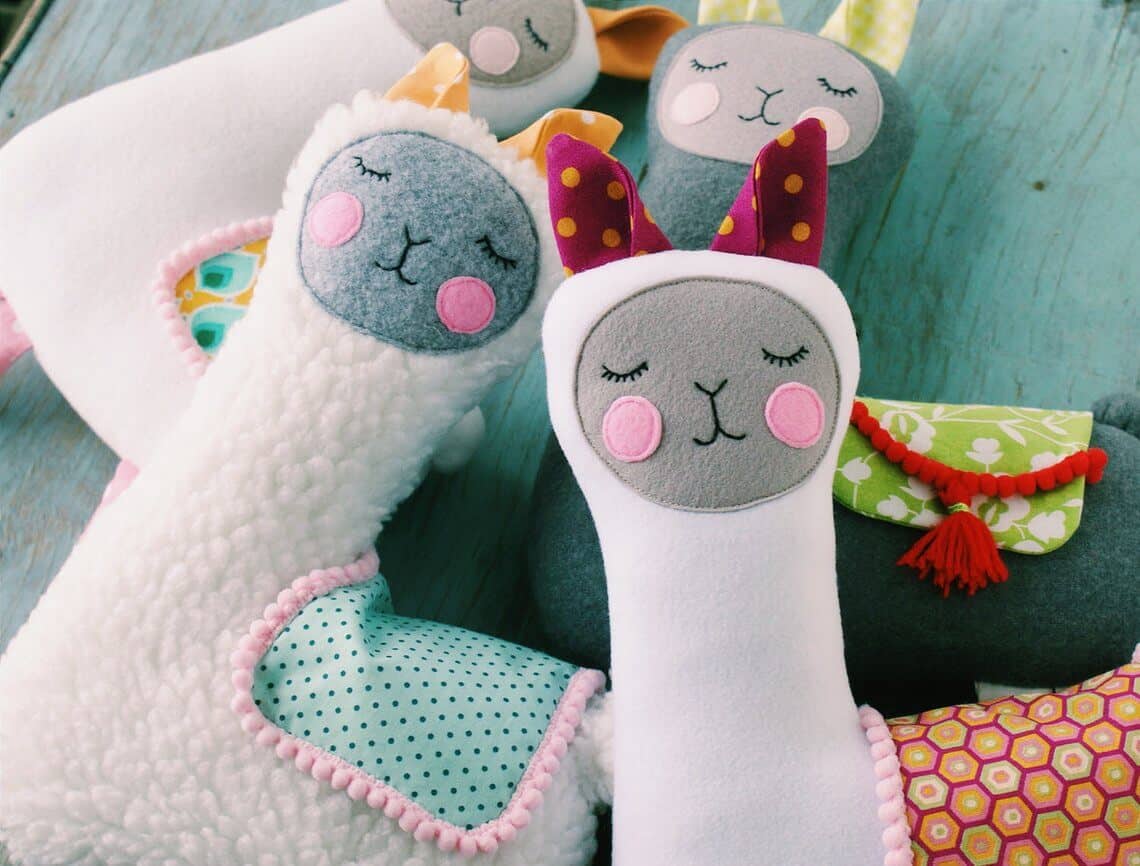 CREATING A COHESIVE BABY/CHILD PRODUCT LINE
The baby product industry is a multi-billion dollar one. The fact that consumers are more aware of child health is only helping to grow this industry.
But a growing industry means more competition and more effort required for a business selling baby products to stand out.
It's not enough to make a trendy product and hope that it takes your business to new heights this year. There are best practices that must be in place to ensure when you launch that new trendy product, all the attention doesn't go to waste and you can capitalize on it for years to come.
I'll share the business basics that must be in place to get ready for your boost in business and to keep the momentum going in BEAT LAST YEAR'S SALES.
HANDMADE SOAP TRENDS FOR 2019
First and foremost, be sure you're following laws when it comes to the claims you make about your bath & body products (e.g. you aren't making claims that classify products as a drug rather than a cosmetic…it's an easy mistake to make) and you're following labelling laws. You'll also have regular business laws to follow as well.
Theme trends can be applied to soap molds, colors, labels, etc. For example:
Unicorn bath bombs
Cactus shaped soap
Llama shaped soap
Unicorn Scrub by Happiness is Homemade:
Cactus shaped soap by Lovely Indeed:
SCENTS
According to Trend Aroma, scents derived from nature are influencing home scents (candles, room sprays, etc.)
According to The Perfume Shop these scents are going to be big in 2019:
Floral scents
Food scents (technical name: "Gourmands"…fancy;) Think:

Chocolate
Cinnamon
Liquorice
Coffee
Exfoliating coffee & milk soap by Happiness is Homemade:
INGREDIENTS/PACKAGING
Each year, consumers become more and more educated about unethical big business practices, such as harmful ingredients they use to save on costs, the environmental impact their factories have, etc. Being a conscious consumer is a trend that's going to continue…I mean, can you ever see consumers demanding products with more harmful ingredients in them?
As a handmade soap maker, you're probably already ahead of the curve with this one and are likely using natural ingredients. But it's important to educate your customers; most aren't as aware as you are of what's in big brand products, why they're harmful, and how handmade products are different.
When it comes to ingredients, think about:
Infusing – there always seems to be a new ingredient that's been discovered as being beneficial for the skin, or one a culture has been using forever and is being introduced into new skin care products. For example, products infused with:

Charcoal
Turmeric
Seaweed
Celery juice is a big trend right now…perhaps there's a benefit when applied topically?
Looking at Sephora's website and what's new in skincare products, a few include:
Avocado masks
Aloe, mint, green tea, cucumber, lavender, chamomile, etc. are popular ingredients in skincare products such as facial sprays, serums, washes, etc.
Watermelon is another ingredient I've seen popping up in skincare and is a great one for spring/summer
*Always follow cosmetic regulations
Watermelon soap by A Pumpkin and a Princess
More scent sensitivities are also coming to light. Sort of like how more and more people are discovering they have a sensitivity to gluten or eggs or dairy, many people are realizing the source of their headaches or rashes are coming from synthetic fragrances. This may spark an un-scented or scent-sensitive line of bath & body products for your business.
LABELS
The Perfume Shop also points out that glittery bottles are trending. This may factor into your packaging or labels. But of course, keep it on-brand. If your brand is focused on being natural and environmentally friendly, "glitter" isn't really on-brand.
Keep in mind; although you may understand why you use organic/natural/environmentally friendly ingredients/materials, the average consumer may not. Make sure your labels, product descriptions, signage, sales pitches, etc. communicate why you use the ingredients, materials and techniques you do, in a way that's interesting/beneficial to the consumer. You may like: PRODUCT DESCRIPTIONS TEMPLATES, SAMPLES & EXAMPLES
CREATING A COHESIVE SOAP PRODUCT LINE
To hit your sales goals this year, it will require more than simply introducing a soap in the shape of a cactus or a lotion infused with a trendy ingredient.
If you're competing with several soap vendors at craft shows or online, you may be spinning your wheels, wondering how you can stand out.
Here's how…
Your entire business, not just one product, must appeal to a common passion or a problem. ALL products must be appealing to one type of customer so it encourages upsells and repeat customers. And you need to be using THE marketing method and channel that helps you make those extra sales.
BEAT LAST YEAR'S SALES will help you with all of these steps (and it's free!)
HANDMADE CANDLE TRENDS 2019
Some of those most note-worthy candle related search terms that came up in Google trends have one thing in common:
They're offering out-of-the-box products when it comes to candles.
Although you can't copy these ideas or create a candle called "magic candle company" or "KFC gravy candle", without infringing on copyrights or trademarks, you can be inspired by how these candles became trending search terms.
TRENDING SEACH TERMS
Magic candle company
Instead of your typical candle scents, they're offering ones that mimic popular vacation destinations. How amazing is that?! The other thing they've cleverly done, is allude to specific places, without infringing on copyrights. If they called their candle Pirates of the Caribbean Ride, that would be infringement. Instead, they've called it "Pirate Life" and used the description to paint a specific, but not too specific, picture of the memory the scent may be tied to.
KFC Gravy Candle
Yes, this is a term commonly searched and the name of an actual candle created by KFC. I think this candle opens up ideas for fun candle scents.
There are thousands of candle businesses selling vanilla or lavender scented candles, but how many are selling savoury food scented candles? Offering a line of "cooking" scents would be a great way to target a niche audience.
Imagine "roasted chicken" or "roast beef and gravy" scented candles for that friend who can't cook but wants to order takeout and make their kitchen smell like they've been slaving all day? Or to realtors who want to help people imagine cooking in the kitchen of the house they're trying to sell.
Fast food scents such as "French fries", "fried chicken" or even "donuts" would make a great line of candles to market as the perfect gift for the person who has everything…they don't have a fried chicken scented candle.
Augusta Candle Company
This business is selling fairly traditional candles; nothing too far out of the box when it comes to containers, scents, or ingredients. However, the way their candles are created is unique. Customers can choose their containers, create their own scents and pour their own candles.
Perhaps you could offer custom scents. This would be a great idea for the wedding industry; a unique scent for the big day and to be reminded of every time they burn one of your candles at home; you'd have a customer for life since they can't get their signature wedding scent anywhere else.
Foreverwick Candle
These candles have a diamond in them, which is revealed as you burn the candle. Instead of being left with an empty jar, you have a keepsake.
When it comes to candle trends that appeared in Pinterest searches, there seemed to be more of:
Wood wick candles
Clean, modern containers and labels
Swoon Worthy has the perfect DIY that incorporates both of these trends. Clean, modern labels and a wood wick.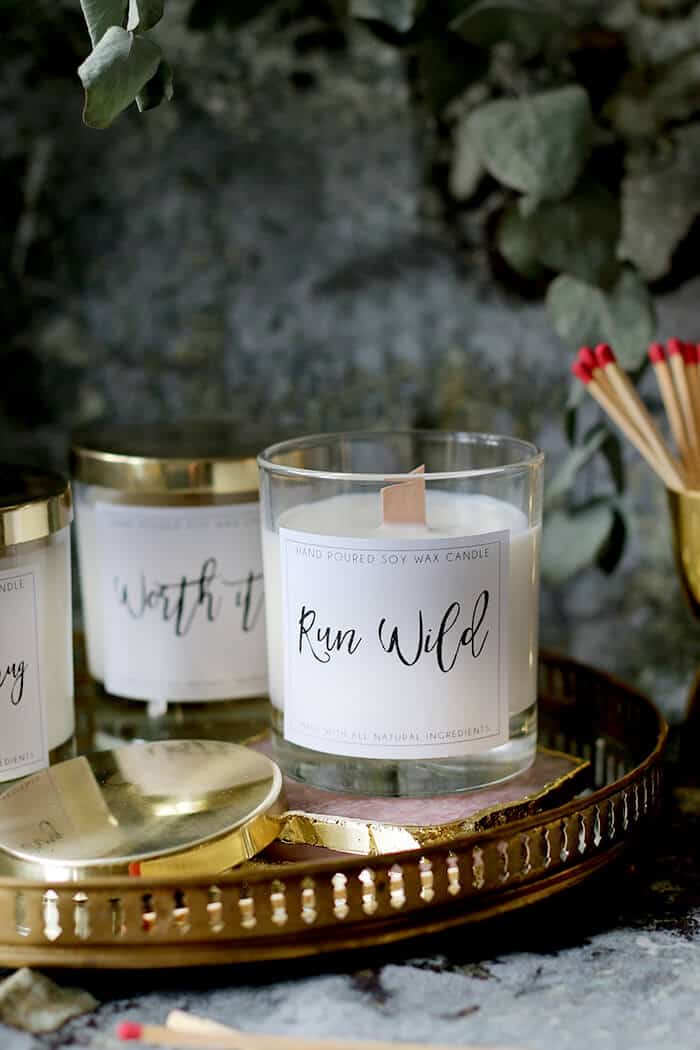 Candle centrepieces & candle centerpiece wedding – these are both popular search terms on Pinterest. The results that are most common are candles incorporating natural elements. For example, a grouping of candles sitting on log platforms, surrounded by flowers or greenery (eucalyptus is really popular right now).
CREATING A POPULAR CANDLE BUSINESS
Here's a trick that one of the bigger companies selling mass-produced candles uses; they tap into your emotions and connect a feeling to their products.
Keep that in mind when brainstorming which candles to produce next and how to grow your company.
As covered in BEAT LAST YEAR'S SALES, your business absolutely needs a USP to survive (unique selling position), whether that USP develops organically or you create it by tweaking your existing products.
Scents tied to memories may be a great start for your USP.
Magic Candle Company is already creating scents connected to popular vacation destinations, but perhaps memories of the holidays (food and drink scents), childhood (5-cent candies, picnics in the park), summer (fresh cut grass, sunscreen, BBQ-ing), popular stores to shop at (you couldn't use the name of the store; you'd have to do something similar to Magic Candle Company and describe the setting you're mimicking without infringing on copyrights or trademarks), etc.
For more ideas on where to start with creating a unique candle business, check out BEAT LAST YEAR'S SALES.
JEWELRY TRENDS FOR 2019
Search terms that are currently trending in relation to jewelry are:
Pinky promise necklace
You are my sunshine necklace
Padlock necklace
Unicorn necklace
4 oceans bracelet – I am not sharing this one because of the design (this is their design and should not be copied), but because of their cause. The bracelet is trending because each one sold cleans up a pound of trash from the ocean and coastlines. This echo's my earlier mention of consumers becoming more aware. Everyone is starting to wake up to the damage we've caused to this earth and becoming more conscious about purchases.
ETSY SALES
There are a few jewelry shops that are on Etsy's top 10 sellers list. Those shops are all selling dainty, personalized jewelry and only offering it in silver, gold and rose gold.
Part of their success comes from having a signature style (learn how to find yours here). They don't work with a wide variety of materials or offer a wide range of styles. If you like one of their products, you're sure to like all of them.
BASED ON UPCOMING TRENDS
Fashion runways are saying that the dainty jewelry that's been selling like hotcakes in the past is on its way out and chunky bold jewelry is up and coming.
That doesn't mean dainty, minimalist jewelry will stop selling. It usually takes years for a trend to run its course. The early adaptors may start wearing chunky jewelry but the majority of consumers are just accepting and hopping on the dainty jewelry trend.
In general, jewelry worn on the runways was bolder; more layering, chunkier pieces, longer earrings, etc.
Extreme hoops – bigger, chunkier, bolder
Chunky chains
Seashell jewelry
Asymmetrical earrings – mismatched earrings is a cool trend from the runways; one was a pendant earring while the other was a hoop. Or one was a hoop while the other was a stud. Some models on the runway were even sporting just one statement earring and the other ear lobe going bare.
Coins – like this coined jewelry by Sadie Seasongoods:
Remember to also check out:
CREATING A COHESIVE JEWELRY PRODUCT LINE
Jewelry is a popular category for handmade products and has many business owners wondering if it's too saturated to make any real money.
Absolutely not.
You simply need to have some basics in place to stand out, capture a piece of the marketplace and keep those sales consistently coming in.
A trendy product may help you get that start and stand out, but you must keep the momentum going. BEAT LAST YEAR'S SALES will share the simple, but often overlooked, steps every handmade business must take.
BAG & PURSE TRENDS FOR 2019
Runways – the styles seen on fashion runways were all over the place from oversized bags to micro bags (about the size of a coin purse) and a wide variety of styles; it all depended on the designer. There wasn't one style that was seen across the board. In general, you could apply some of the popular fashion runway colors to bags, or even the Pantone color of the year: living coral.
Etsy – many of the top selling Etsy shops under the "bags & purses" categories are selling more industrial looking, unisex bags (messenger bags, backpacks, etc.). I've also noticed that waxed canvas, canvas and leather (in natural colors) are popular.
Google trends – searches related to "bags" or "purses" were focused around specific brands, eg.g "Gucci belt bag" and "Dior saddle bag". You can't copy their designs (that's copyright infringement) but perhaps a belt bag (which was done in a variety of styles by different designers) will inspire you.
Social media – most of the results that come up when searching purses, bags, handbags on social media are designer bags. And the people who want designer bags like Gucci, Fendi, etc. are not your ideal customer (these are the mistakes you may be making with your ideal customer). One overall trend was boxy, leather bags in soft colors like blush, cream, beige, mushroom, oyster, etc.
Environmental trends – reusable produce bags, lunch bags, sandwich bags, etc. are right on-trend with consumers being more environmentally friendly. Waxed canvas lunch bags seem to becoming more popular. They look like a brown paper bag but are reusable…and they look a little more professional than a brown paper bag or plastic bag.
Macrame – the macrame trend in home decor seems to be migrating to handbags. They showed up on a few runways at fashion shows and on social media.
The key to any successful handbag line is finding your signature style (help with that here) that appeals to a passion or problem (e.g. a passion might be a love for a certain style such as boho, while a problem may be a sore shoulder from carrying around a heavy book bag or needing to carry around a diaper bag but not wanting to look like you're carrying a diaper bag).
You must also know why people should buy your bags when there are so many options for them out there.
Repeat customers are essential to the success of any business but that can be a little more difficult with when selling handbags because, how many bags does one need to buy in a year? You must offer products that make sense for your customers to buy together or within several weeks or months of purchasing a bag.
If you want to boost your sales and make more money this year, sign up for BEAT LAST YEAR'S SALES (it's free)
HOME & LIVING PRODUCTS TRENDS FOR 2019
If you sell pillows, bedding, art, etc. you can easily work in this year's trending themes (unicorn, cactus or llama). A few trending search terms that are not necessarily "home decor" but fit under sewing are:
Breastfeeding pillow – here's a nursing pillow by DIY Danielle:
Seatbelt pillow
Weighted blankets
Buffalo plaid – this is likely seasonal but good to keep in mind for a print to offer in pillows, blankets, etc. in fall (example of Buffalo plaid below)
TABLE DÉCOR TRENDS FOR 2019
Farmhouse table décor
Unicorn table décor – I imagine this would be related to party decorating
Seasonal table décor ideas – keep this in mind for upcoming holidays. You can offer Easter/Halloween/Thanksgiving/Christmas table décor and provide inspiration. Many people search "console table décor ideas", "entry way table décor ideas" etc. Use that information to your advantage by taking photos of your products, incorporated with other household items to create a beautiful table or mantle display. You could even write a blog post or newsletter sharing tips and linking to products you sell that help create a vignette. For example, instead of simply posting a photo of the candleholders you sell, show them set up on a foyer table, sitting on top of a stack of books and other items that might look great displayed with them; perhaps a lamp and framed picture (see the photo below of Geode wall art by Fox + Hazel for an example of how to stage your home décor products to create a vignette).
WALL ART TRENDS FOR 2019
Geode wall art – here's an example (and free printable one) from Fox + Hazel
Moss wall art – I LOVE this one. It's like a take on the living wall. Here's a small, quick and easy DIY creating art with moss by Garden Therapy:
Boho wall art – this may mean different things to different people but in general, I think the macramé trend is continuing.
Inhale exhale wall art – my suggestion would be to come up with your version of this, using your signature style. They all seem to all use a very similar font and style but why not put your spin on it? You could choose a different font or styling, or use different words that remind people to relax. I quickly created an example of one to give you an idea of what the trending "inhale exhale" art looks like:
Paintings – a lot of searches are related to a specific type of painter, which you don't want to follow; you want to use your own style. These were some trending searches for popular sub-categories of paintings:

Watercolor – "rainbow watercolor" is a popular search term, according to Google Trends; which makes sense as it aligns with the unicorn trend we're seeing this year. "Sunset watercolor" and "florals" also come up a lot in relation to "watercolor". Watercolor pens are also commonly searched but that would be more for the artist and not necessarily the art consumer. However, if many artists begin using watercolor pens, it may be something consumers start to look for.
Surrealist painting – there are many different interpretations this type of painting can take on. Generally, it takes a realistic painting and adds unrealistic elements. Please search the term on Google to see examples.
PHOTOGRAPHY TRENDS FOR 2019
Lots of people are currently searching the following keywords when it comes to photography. For copyright reasons, I can't share other's photos here but if you search the keyword and go to the "images" tab, you'll see lots of examples.
Surrealism photography – this is when a photograph is edited to create a "surreal" photo.
Milk bath photography – this seems to be a trend with portrait, maternity, baby, etc. photography sessions. Subjects lay in a bath of milk with objects such as flower petals floating around them.
Blue hour photography – "blue hour" is a twilight period in the morning or evening; taking photos during this time creates photos with a blue shade.
WOODWORKING TRENDS FOR 2019
Here are a few searches that are popular on Google right now:
Jigsaw puzzle coffee table – there are two types of results that show up when you search for "puzzle coffee table" (which is commonly searched). One is a coffee table with the top being big wooden puzzle pieces that fit together to make a tabletop, and the second is a coffee table with a hidden pull-out drawer for putting together a puzzle. I believe the second option is what Google Trends is referring to, as "coffee table with hidden storage" is also trending. Here's a DIY by Home Made by Carmona:
Surfboard coffee table – this appears to be the shape and design of a surfboard used for the top of the table, but not an actual surfboard converted to a tabletop
3 piece coffee table set
Log coffee table
Woodworking kits for kids – this may be an idea for selling the parts to make a toy or item and including instructions for how to put the item together
Jerky cutting board – this is a cutting board that makes it easier to cut strips of meat for jerky. Here's a list of a few on the market.
Wood signs – the top 10 sales spots for Etsy stores selling under woodworking were dominated by wood signs.
Wood toys – as mentioned in the baby/children's section, the majority of Etsy shops that landed in the top 10 spots under the "toys & games" category were selling wooden toys. Please scroll up to that section for examples.
CREATING A COHESIVE PRODUCT LINE
Getting great sales isn't a matter of introducing one new trending product to your line up.
That product must work with your brand and USP
If it's a trending product, you best believe it's going to have growing competition so you must have a reason for why consumers should buy from you
You need to keep those customers coming back…we don't want one-time sales
For help with these three points and more lessons that will take your sales to the next level in 2019, join the free email challenge: BEAT LAST YEAR'S SALES
PET TRENDS FOR 2019
There wasn't a lot of information in regards to pet trends that could be applied to handmade products. But in general, the health trend that pertains to humans is carrying over into pets.
Pet owners are becoming more aware of the ingredients in food and their pet's general wellbeing. We've recently switched our cat over to raw food but he's been on wet canned food for most of his life. Most dry kibble pet foods are not great for our pets' health because they can be high-carb and plant protein.
Although you may not be in the pet food industry, I believe a happy pet is a healthy pet and anything that encourages play, activity, and one-on-one time with their owner, is moving in the right direction.
My own observation is also that, pets are becoming less and less thought of as "pets" and more as a member of the family. It's not as rare to find pet owners who love to spoil their pets rotten…myself included 😉
MAKE WHATEVER YOU SELL, A BESTSELLER
It's not just about what you sell; it's how you sell it. It doesn't matter if you have the trendiest product in the world, if you simply set it down on a craft show table or list it on Etsy without any merchandising or marketing effort, you'll be missing out on sales. Make sure you:
UPDATE:
Don't forget to check out CHRISTMAS CRAFT TRENDS FOR 2019!
Which trends are you going to try this year?